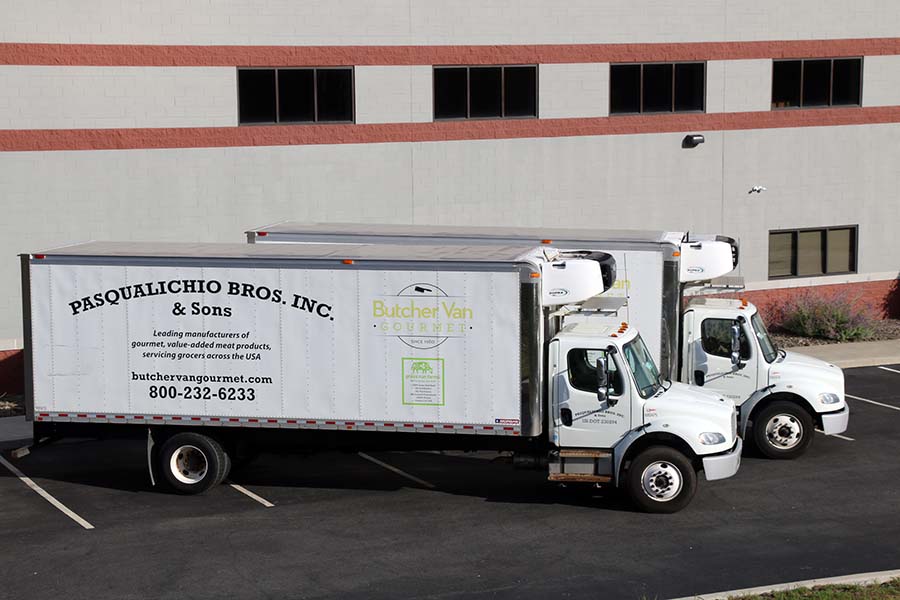 Butcher Van Gourmet is a private label line created, manufactured and distributed by Pasqualichio Brothers, Inc. of Jessup, Pennsylvania.
What started in 1980 when four brothers rented cooler space from a warehouse located at Keyser Avenue in Scranton has grown today to a USDA Federally inspected meat plant processing and distributing a variety of meats including beef, pork, lamb, veal, and other provisions while focusing their attention on sales and quality service.
Today, Pasqualichio Brothers, Inc. embraces the invaluable lessons learned from their predecessors, with an emphasis placed on work ethic and delivering only the highest quality gourmet meat products to their national and international partners. With seven sons now working directly with their fathers who have been entrenched in the industry for decades, Pasqualichio Brothers, Inc. is a family business that has built global relationships and continues to expand every day. Click here to learn more!
This premium line which offers an extensive value added meats product line to grocers throughout the country.
From traditionally labor-intensive items such as Bracioles, Beef Pinwheels, and Hand Tied Roasts to custom cut and marinaded specialty products, the Butcher Van Gourmet product line is sure to please a variety of customers and consumers. Butcher Van Gourmet also offers a variety of unseasoned meats cut to customer's specifications which are individually packaged with cost, convenience, and shelf life in mind. Learn more about our program here.