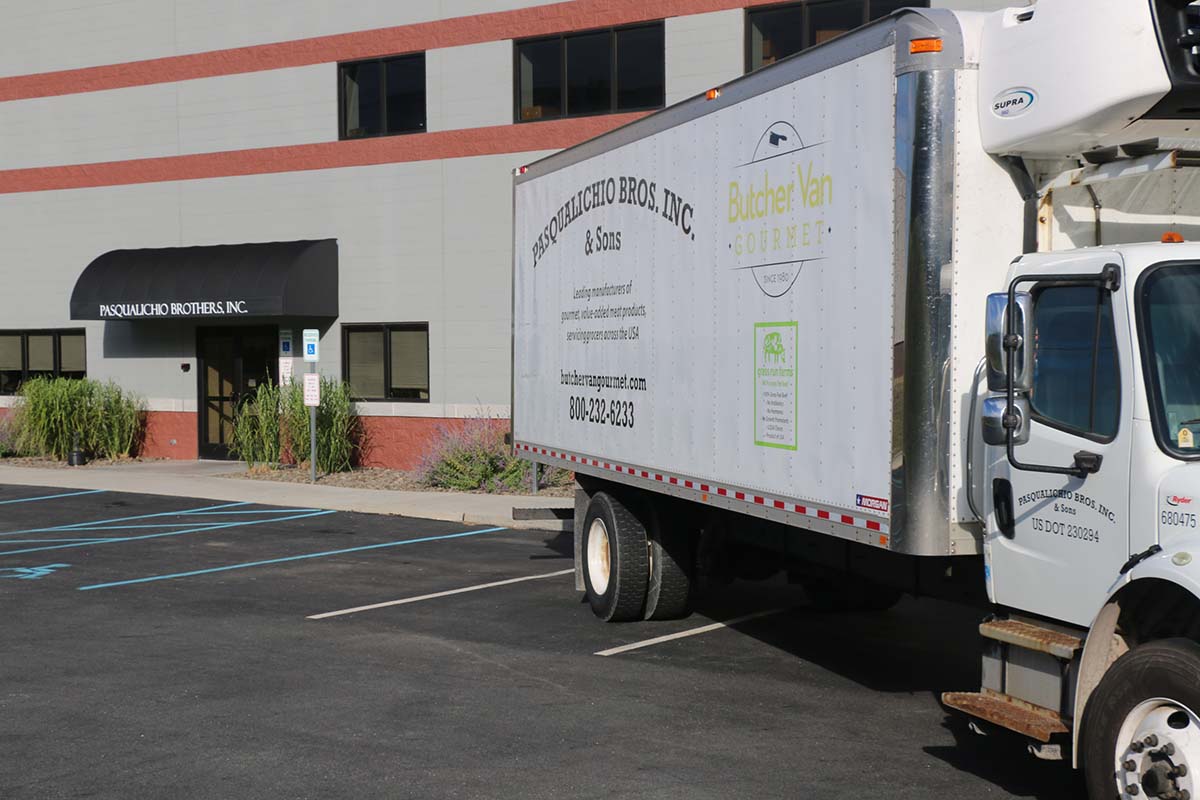 Pasqualichio Brothers, Inc. invites you to become a Butcher Van Gourmet distributor or retailer.
Since 1980, Pasqualichio Brothers, Inc., a family-owned and operated, meat processing and distribution company located in Jessup, PA, near Scranton, Pennsylvania has been consistent with producing fresh products such as beef, pork, and poultry.  The company was established by four brothers, along with the help of their parents. The business began as a wholesale distribution company specializing in the sale of products to supermarkets in eastern Pennsylvania, New York, and New Jersey. After ten years in business, the company's focus has shifted to value-added meat products, providing families with quality gourmet selections. With our brand new state of the art facility the multi-generational operation now provides co-packing, custom cutting, grinding services, marinade programs, and other custom made products for clients across the United States.
Butcher Van Gourmet is Pasqualichio Brothers, Inc.'s premium line which offers an extensive value added meats product line.   
From traditionally labor intensive items such as Bracioles, Beef Pinwheels, and Hand Tied Roasts to custom cut and marinaded specialty products, the Butcher Van Gourmet product line is sure to please a variety of customers and consumers.  Butcher Van Gourmet also offers a variety of unseasoned meats cut to customer's specifications which are individually packaged with cost, convenience, and shelf life in mind.
The inclusion of the Butcher Van Gourmet line for many grocery stores from the national chains to the small independent grocers has provided exceptional value in many ways:
The Butcher Van Gourmet program's offerings are fully customizable. The consumer is not forced to buy ridiculous case quantities of multiple SKUs to get the products and quantities needed to make our business relationship beneficial. kebab_dining

Are you a small store? We started small. We remember what it's like to be small, and we want you to be able to compete with the bigger organizations and be successful. We can help you expand your SKUs while controlling costs.pages
Are you a regional or national chain? Let us help you obtain your goals. Need to standardize your SKUs? Need to customize each store's offering? Either way, we have a program that will work for you.pages
We have an extensive offering of both seasoned, marinated, and value added. pages

The Butcher Van Gourmet program reduces labor costs. Finding quality, reliable, skilled employees is very challenging in today's economy. With Butcher Van Gourmet, we become your meat department. Specialty cuts or products are done at our facility in bulk and shipped fresh to you, ready for sale. We strive for consistency in delivering our products fresh to you, shelf ready. kebab_dining
The Butcher Van Gourmet program products have a longer shelf life than those packed at store level. Our products are packed with a roll stock machine and then trayed and overwrapped for appearance. Our typical products have an approximate 25-day life from pack date. With most of our accounts that becomes an 18-21 day shelf life when it reaches the store. With a good wrap or seal and an effective refrigeration plan you might get 5-7 days shelf life on an in-store wrap. Let us help you reduce shrinkage and increase your profits. kebab_dining
We may be able to help you with your logistics. We have shipping capabilities across 50 states as well as running our own fleet of vehicles and are most likely delivering something near you today. Let us work with you to add you to one of our already established routes, or schedule an additional stop with one of the national carriers. kebab_dining
If you are a smaller butcher, deli, or restaurant requiring specialty meat cutting, grinding, or other production, we will assist you with your offerings. Whether it's developing your own private label, or co-packing your own recipe on a larger scale, contact us and learn more about how we may be able to help you become successful and exceed your goals, with us as a trusted partner.
We believe that our relationship with our customers remains the key to our continued growth and our company's success. Whether you're purchasing one of our gourmet meat selections at your local grocer for the first time, or are working closely with us to create a custom value added meat item for your facility or you are a buyer with a national chain store, we guarantee to give you our best with each and every experience.
If you are a consumer and are unable to purchase our products at your local supermarket, you may contact us for a listing of locations where our products are available. Contact info is as follows:
Call us toll free 1-800-232-6233 or e-mail us at Pasqualichio@bvgourmet.com .